This post was temporarily made available to all readers on May 22, 2022 in advance of our projections for the 2022–23 season.
Welcome to What's Next in WCIW, the subscribers-only analysis newsletter from Where Can I Watch. (For more about subscriptions, please see our memberships page.)
This week we'll be taking a look at the newly-announced 2021–22 schedules for the five main commercial broadcast networks in the U.S. – ABC, CBS, The CW, Fox, and NBC – and how their programming decisions for the fall will affect what will air on Canadian networks in the coming season.
Over the past few years, it's become clear that there are certain types of programs that work well on North American broadcast TV, and others that work better on cable or streaming. This isn't necessarily a matter of drama vs. comedy vs. reality, though the genre plays a bit of a role. It arguably comes down more to tone and familiarity. Broadcast sees fewer and fewer big swings – though there are still occasionally some – and more broad-appeal series, including reboots and franchises.
Thus, CBS now has a full night of FBI series, three flavours of NCIS, and a reboot of CSI. NBC, already the home of One Chicago on Wednesdays, has replaced its Thursday lineup with three different Law & Order spinoffs. ABC is arguably less in that franchise mould, but the one of its two new shows this fall is a reboot, namely of The Wonder Years.
The CW remains home to numerous DC "Arrowverse" series, several others from Greg Berlanti, and a few others in a similar vein, including, for the first time, a reboot from Nickelodeon. Fox has fewer connected franchises, but there are still two versions of 9-1-1 (the second returning mid-season), and has franchises in different veins like its Sunday night animation block.
So how will these schedules translate to the Canadian networks that depend on this programming – CTV/CTV2, Global, and Citytv?
The important thing to remember off the top is that, while many of the Canadian networks do have relationships with American media companies, the relationships aren't so much with the networks as the production companies.
Thus, even though Global often ends up airing a lot of CBS programs, most of those are produced and distributed by CBS Studios (which, in fairness, fills up a lot of the CBS schedule these days). Shows like Young Sheldon and Bob Hearts Abishola, on the other hand, although commissioned by CBS, are actually produced by Warner Bros., which these days has closer ties to Bell Media – which in turn has led those sitcoms to air on CTV.
Even so, these relationships are more guidelines than hard rules. Global, for example, picked up United States of Al – also a Warner Bros. sitcom airing on CBS – this past midseason, likely because CBS chose to air it on Thursday nights when CTV's schedule is filled with shows like Grey's Anatomy and Station 19. In short, it was more valuable to Global – which had the simulcast timeslot available, meaning it could invoke simultaneous substitution or "simsub" over CBS – than it would have been to CTV, which at best could have slotted it in out of simulcast in the 7-8pm ET hour, or on CTV2.
Ultimately, then, where a particular U.S. show airs in Canada is less about where it "fits" thematically – though it's arguably still a tertiary concern – and more about producer relationships and available simulcast slots.
So with that in mind, here's our current projections for how the Canadian network schedules are likely to shake out, and how they compare with the American networks (click the image to see a bigger version if needed):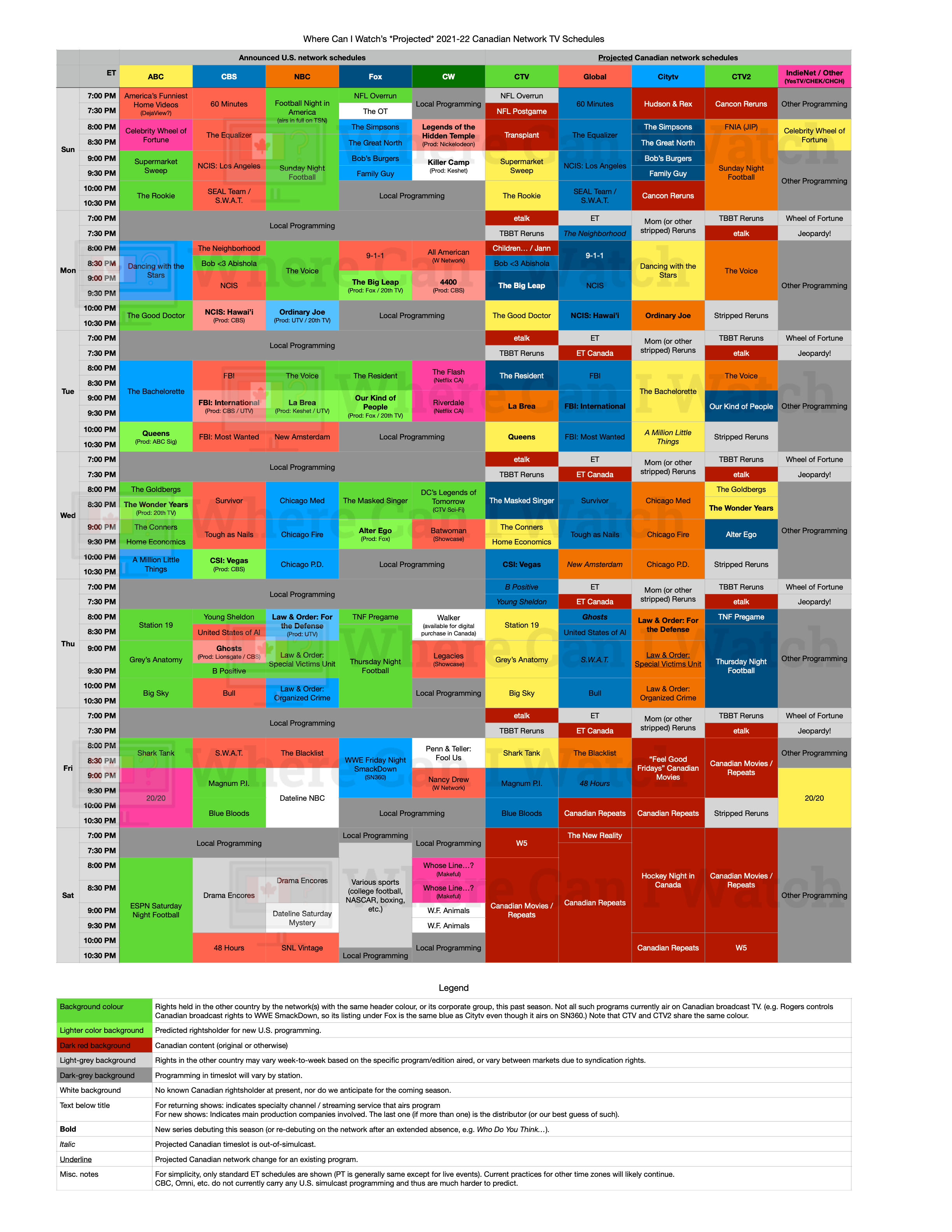 Here's a brief overview of how we think things will shake out for each Canadian network. Note that we are not including networks like CBC, Omni, or French-language networks like Ici Radio-Canada, TVA, or Noovo, since – although they all air some foreign programming – they are not nearly as tied to the U.S. networks and their schedules.
CTV
The top-rated Bell-owned network has a few holes in terms of what's not covered by returning programming. Sundays at 8pm ET doesn't really have a good American option (unless they were to unexpectedly decide to pick up Wheel of Fortune again), so we think CTV will continue with Canadian programming at that hour; for now we're suggesting Transplant, but it could just as easily be another season of MasterChef Canada or the next Mike Holmes show.
 
Mondays 8-10pm ET could theoretically be filled by The Voice, but since that was shifted to CTV2 a while ago, we doubt CTV will try to bring it back to the main network. Instead, we think they'll stick with Bob Hearts Abishola at 8:30, and add Fox's The Big Leap at 9. That leaves a half hour at 8:00 which could be filled by Canadian comedies like the new Children Ruin Everything and/or the returning Jann.
 
Tuesdays have a hole from 9-11, but Queens (from ABC Signature, a frequent programming source for CTV) seems like the best available option at 10. There are two available programs at 9, Our Kind of People and La Brea, but the latter seems to be more of a mystery in the Lost vein, which has worked well on CTV in the past, and we don't expect Global and Citytv to put up a fight for it. While it would be great to see a Black-centred drama like OKOP work here, Empire bounced between Omni and CHCH without ever making an impact, despite its success (at least initially) in the U.S.
Wednesdays are a bit more interesting, but for now we anticipate CTV will stick with The Masked Singer, which continues to do very well in the Canadian ratings, at 8, and ABC sitcoms The Conners and Home Economics from 9-10. At 10, their best option is CSI: Vegas – but it's likely also Global's best option. Global has the tighter ties to CBS these days, but we're going to go out slightly on a limb and predict that CTV will shell out to maintain its ties to a show that helped bring it back to ratings prominence in the early 2000s.
Thursday and Friday are booked up with returning ABC and CBS shows including Grey's Anatomy and Blue Bloods (see Citytv below re what we think will happen with SVU). Saturdays will probably continue to be newsmagazine W5 at 7:00 followed by Canadian movies and repeats.
Global
At this point, the Corus-owned number-two broadcast network is very much tied to the CBS schedule. We're going to go ahead and assume that it will at least pick up the new NCIS and FBI iterations; if so, CBS simulcast programming will make up all of Sunday and Tuesday nights, and most of Monday and Wednesday. Global will also surely continue to air the original 9-1-1 on Monday nights, and NBC's The Blacklist (which was previously dropped to Citytv only to come back again) on Fridays.
That still leaves a few open timeslots, including a couple of cases where other Global shows now conflict with the CBS procedurals. Assuming that CTV picks up CSI: Vegas instead of Global, we expect Global to air NBC's New Amsterdam on a one-day delay, and similarly the early-season Friday run of S.W.A.T. will likely air on Thursdays at 9:00. Also on Thursdays, we'd expect them to buy Ghosts, airing slightly early to pair with United States of Al. That leaves an hour or so on Friday, plus most of Saturday, for Canadian content repeats.
Citytv
At this point, the schedule of Rogers' main broadcast network is already mostly booked up with returning shows and franchises including Animation Domination, One Chicago, Dancing with the Stars, The Bachelor/ette, and Hockey Night in Canada. Which is a fairly big deal, considering the number of Mom reruns in primetime the past couple of years.
After having picked up Law & Order: Organized Crime this past season, we think it makes sense for them to pick up the new spinoff, For the Defense, and possibly even the long-running Special Victims Unit.
The L&O franchise has long been tied to CTV, going back to (we believe) the original series' debut in 1990 (including several years relegated to the BBS schedule before that system was merged into CTV). However, CTV doesn't really have a good place for it anymore, being committed to Grey's and other ABC shows on Thursdays. It can't air SVU in the early evening due to its frequent mature content and watershed restrictions. And even if CTV was to pre-release it on Tuesday or Wednesday, there's now the risk of it ruining a potential crossover between the three series – which is not CTV's problem per se, but may be a problem for distributor NBCUniversal.
Thus we think there's a good chance of all three L&O series ending up on Citytv starting this fall.
Apart from that, Ordinary Joe probably makes the most sense on Mondays at 10, and Citytv will likely stick with its existing "Feel Good Fridays" Canadian movie lineup at the end of the week, despite theoretically being able to simsub SmackDown on Fox. That leaves Canadian drama Hudson & Rex, which we've suggested could be placed on early Sunday nights, but could just as easily be held for mid-season (as Citytv did this past year).
CTV2
Bell's secondary broadcast TV system will likely continue with its current mix of NFL simulcasts on Sundays and Thursdays, The Voice on Mondays and Tuesdays, Canadian movies and repeats on Fridays and Saturdays, and stripped programming (possibly still Criminal Minds reruns, possibly something different) weeknights at 10pm ET.
Apart from that, it'll likely pick up a few remainders that other networks aren't interested in (or can't fit), which we think will include Our Kind of People, The Goldbergs, The Wonder Years, and Alter Ego.
IndieNet
IndieNet, which is led by Crossroads – the religious broadcaster behind YesTV – and includes YesTV's Ontario and Alberta stations as well as CHEK Victoria, and to a lesser extent CHCH Hamilton and CJON (NTV) St. John's (the latter of which still gets most of its programming from Global), will likely continue to offer syndicated fare like Wheel of Fortune and Jeopardy!, and the occasional primetime show like 20/20 (on CHCH) or Wheel's primetime celebrity spinoff, with other timeslots filled with repeat (or, especially on YesTV, religious) fare.
It's not out of the question that one or more of these stations might pick up another U.S. network show that none of the big Canadian networks are interested in, potentially something like Our Kind of People, but we wouldn't count on it at this stage.
What about The CW?
You may notice that, although The CW is an American broadcast network – and thus, in theory, Canadian broadcast networks would have the ability to simsub – in practice, the impact of The CW on Canadian viewership is quite low these days.
While it is technically available in basic cable packages in southern Ontario, it's high enough up the dial that it's not really noticed (Buffalo affiliate WNLO is channel 166 on Rogers' classic digital cable service, in SD only). We understand that the Seattle affiliate is a bit more prominent in Vancouver, but in most other parts of the country, CW affiliates are only available through premium "superstation" packages.
Thus, most of its series end up on cable specialty channels like Showcase or CTV Sci-Fi – though some occasionally end up repeated on their sibling broadcast networks – and a few, like Riverdale, have had their Canadian broadcast rights purchased outright by Netflix.
In terms of The CW's new shows, we currently think Global parent company Corus is most likely to pick up Legends of the Hidden Temple (which might even air on YTV), and drama reboot 4400 (for Showcase), both originating at ViacomCBS. We realized after creating the schedule image that Killer Camp is in fact a returning series (The CW previously aired the first season in 2020), but like much of the network's more reality-type fare, it doesn't appear it's been previously picked up in Canada, or if it has, it was by a more obscure cable channel.
---
So there you have it. We're fairly certain there'll still be some surprises though, so we look forward to the Canadian networks releasing their actual schedules in early-to-mid June.
Thanks for reading. We'll see you again for our next This Week newsletter on Monday.